Moong Dal Moradabadi (Lentil Soup)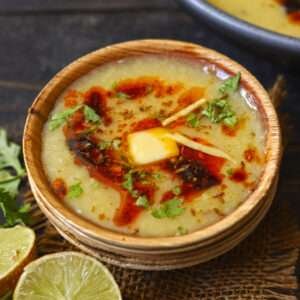 Today, we are thrilled to take you on a culinary journey to the heart of Uttar Pradesh, where the delightful flavors of Moong Dal Moradabadi originate. People from this region has grown up relishing this traditional dish that perfectly embodies the essence of the vibrant cuisine. Join us as we delve into the history, share the recipe, and reveal the secrets behind the irresistible flavors of this iconic lentil dish.
A Historical Tidbit:
Moong Dal Moradabadi takes its name from the city of Moradabad, situated in the northern region of Uttar Pradesh, India. Moradabad, renowned for its rich culinary heritage, has gifted us with this delectable dish. It is believed that the recipe has been passed down through generations, with each family adding their unique twist to the preparation. Today, it stands as a culinary gem, loved by both locals and visitors alike.
Ingredients
Moong Dal (Yellow Moong), Salt to taste. For dressing – Chopped onion, sliced garlic, green chilli, roasted cumin powder, butter, lemon , chopped coriander leaves.
Steps
Wash the Moong dal and soak it in water for a few hours, allowing it to plump up with moisture.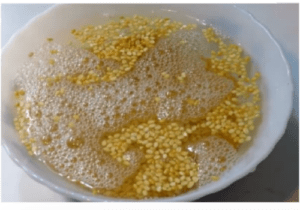 Add Your Heading Text Here
Once the dal is soaked, drain the water and transfer it to a pressure cooker. Add enough water to cover the dal and a pinch of salt. Pressure cook the dal for about 3-4 whistles or until it turns soft and mushy.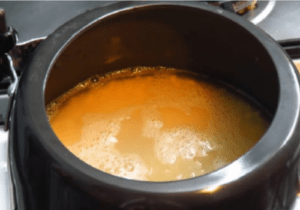 Once the dal is cooked, open the pressure cooker and give it a good stir. If the dal appears too thick, add some warm water to achieve the creamy consistency. Adjust the salt according to your taste.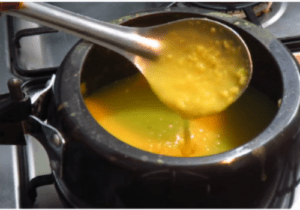 Take the dal in a bowl and add butter, chopped onions, sliced garlic, green chilli, cumin powder, lemon drops and coriander.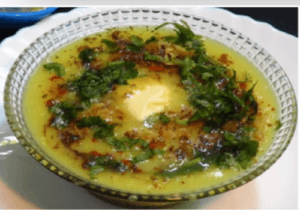 You may add the green and tangy chutney in the dal, as per your choice and the delicious Moong Dal Moradabadi is ready to serve.