Instant Pot Vegan Chickpea Chili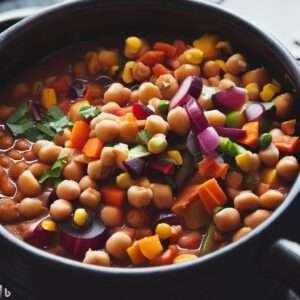 This is a hearty and satisfying dish packed with protein, fiber, and a variety of vegetables.
Ingredients
2 tablespoons olive oil
1 onion, diced
3 cloves of garlic, minced
1 red bell pepper, diced
1 green bell pepper, diced
1 carrot, diced
1 zucchini, diced
1 can (400g) diced tomatoes
2 cans (400g each) chickpeas, drained and rinsed
2 cups vegetable broth
2 tablespoons tomato paste
1 tablespoon chili powder
1 teaspoon cumin powder
1 teaspoon paprika
1/2 teaspoon oregano Salt and pepper to taste Fresh cilantro or parsley for garnish
Steps
Heat olive oil in a large pot over medium heat.
Add the diced onion and minced garlic. Sauté until the onion becomes translucent and the garlic is fragrant.
Add the diced red and green bell peppers, carrot, and zucchini to the pot. Cook for a few minutes until the vegetables begin to soften.
Stir in the diced tomatoes, chickpeas, vegetable broth, and tomato paste. Mix well.
Add the chili powder, cumin powder, paprika, oregano, salt, and pepper. Stir to evenly distribute the spices.
Bring the chili to a boil, then reduce the heat to low. Cover the pot and let it simmer for about 30 minutes, allowing the flavors to meld together and the vegetables to become tender.
Taste the chili and adjust the seasonings according to your preference.
Serve the vegan chickpea chili hot, garnished with fresh cilantro or parsley.
Enjoy it as is or pair it with rice, quinoa, or crusty bread.