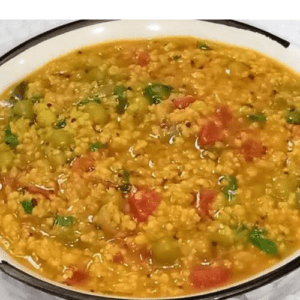 Ingredients
1 cup foxtail millet
1/2 cup moong dal (split yellow lentils)
1 small onion, finely chopped
1 small tomato, finely chopped
1 small carrot, diced
1 small potato, diced
1/2 cup green peas (fresh or frozen)
1 teaspoon cumin seeds
1/2 teaspoon turmeric powder
1/2 teaspoon cumin powder
1/2 teaspoon coriander powder
1/4 teaspoon red chili powder (adjust to taste) Salt to taste
3 cups water
2 tablespoons ghee or oil
Fresh coriander leaves for garnish
Steps
Rinse the foxtail millet and moong dal under running water and soak them together in water for 30 minutes. Drain and set aside.

Heat ghee or oil in a pressure cooker or a deep pan.

Add cumin seeds and let them splutter.

Add the chopped onion and sauté until it turns golden brown.

Add the chopped tomato and cook until it becomes soft and mushy.

Add turmeric powder, cumin powder, coriander powder, red chili powder, and salt. Mix well.

Add the diced carrot, potato, and green peas. Stir to coat the vegetables with the spices.

Add the soaked foxtail millet and moong dal to the cooker or pan. Mix well to combine with the vegetables and spices.

Pour in the water and give everything a good stir.

If using a pressure cooker, cover it with the lid and cook for 3-4 whistles. If using a pan, cover it with a lid and cook on medium heat until the millet and lentils are cooked and the khichdi reaches a porridge-like consistency (approximately 20-25 minutes). Stir occasionally to avoid sticking.

Once cooked, let the pressure release naturally from the cooker or remove the pan from heat.

Garnish the foxtail millet khichdi with fresh coriander leaves.

Serve the khichdi hot with a dollop of ghee and enjoy it as a wholesome and nourishing meal.