Barnyard Millet Kheer Cheesecake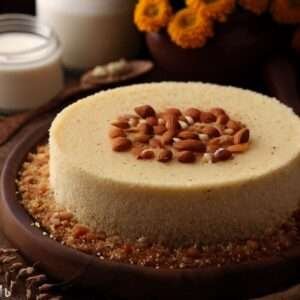 Ingredients
For the crust: 1 cup crushed digestive biscuits or graham crackers 4 tablespoons melted butter For the cheesecake filling: 200 grams cream cheese, softened 1/2 cup condensed milk 1/4 cup milk 1/2 teaspoon vanilla extract For the barnyard millet kheer: 1/2 cup barnyard millet, washed and soaked for 30 minutes 3 cups milk 1/4 cup condensed milk 1/4 cup sugar (adjust to taste) 1/4 teaspoon cardamom powder Chopped nuts and raisins for garnish
Steps
Preheat the oven to 325°F (160°C).

In a mixing bowl, combine the crushed biscuits or graham crackers with the melted butter. Mix until the crumbs are evenly coated.

Press the mixture into the bottom of a greased or lined cake pan to form the crust. Set aside.

In a separate bowl, beat the cream cheese until smooth and creamy.

Add condensed milk, milk, and vanilla extract to the cream cheese. Beat until well combined and smooth.

Pour the cheesecake filling over the prepared crust in the cake pan. Smooth out the top.

Place the cake pan in the preheated oven and bake for 35-40 minutes, or until the cheesecake is set and slightly golden on top.

Remove from the oven and let it cool completely. Transfer to the refrigerator and chill for at least 2 hours.
For the barnyard millet kheer:
In a saucepan, combine the soaked barnyard millet and milk. Bring it to a boil over medium heat.

Reduce the heat to low and simmer until the millet is cooked and the mixture thickens, stirring occasionally. This may take around 20-25 minutes.

Add condensed milk, sugar, and cardamom powder to the saucepan. Stir well to combine.

Continue cooking for another 5 minutes, until the kheer reaches a creamy consistency. Remove from heat and let it cool.
To assemble:
Once the cheesecake and barnyard millet kheer have cooled, spread the kheer evenly over the chilled cheesecake layer.

Garnish with chopped nuts and raisins.

Return the cake to the refrigerator and let it set for a few hours or overnight.

Once set, slice and serve the Barnyard Millet Kheer Cheesecake chilled.